Skip Hire
If you are located in Perth and are doing some construction, or simply performing a big clean up job, then you really need skip hire to take care of all the waste. Regular garbage bins can only hold so much, whereas with skip bin you can get rid of so much more. Plus, in most areas the garbage man only comes by once a week whereas we can turn up daily if needed to collect the waste disposal bins. There's no need to search for skip bin hire near me. Greedy Bins in Perth is at your service.

Sizes for Perth Skip Hire
At Greedy Bins in Perth with offer a variety of skip bin hire sizes and waste bin rental to suit everyone's needs and we can cart the waste away on a daily basis.
Here are the available sizes you can choose from for skip hire and mini skip bin hire:
5 m³ – 2.5mL x 1.5mH x 1.5mW
5 m³ – 2.5mL x 1.5mW x 1.3mH
5 m³ – 2.5mL x 1.5mW x 0.8mH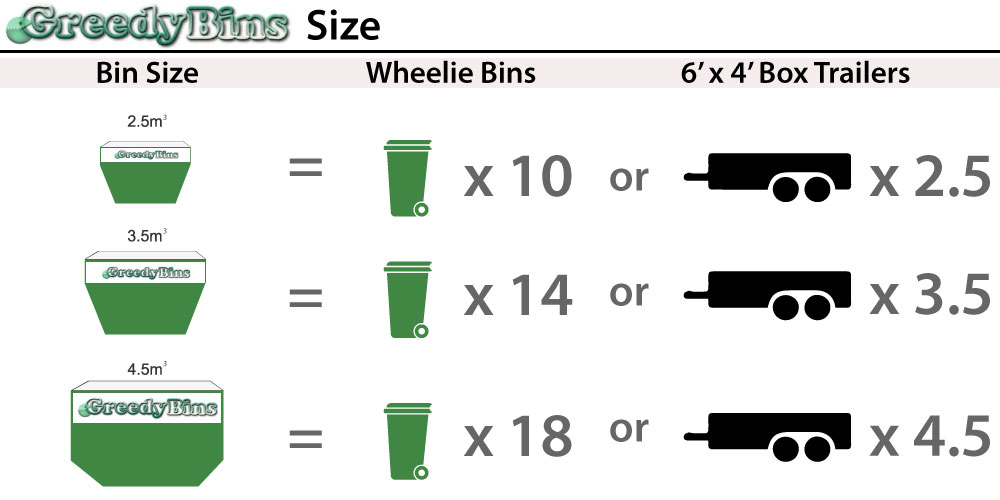 Waste That Skip Bin Take
Pretty much all household waste and construction waste materials can be put into a rubbish bin hire or green waste bin, and taken away by a member of our expert and efficient team.
More specifically we can remove the following types of waste for you:
General rubbish
Green waste such as garden material and lawn clippings
Metal
Old furniture
White goods
Old toys
Domestic and household waste
Waste That Skip Hire Don't
There are just some things you can't put in your skip bin for environmental reasons. Greedy Bins is an eco-friendly, family owned company and we do have some limitations on what can't be put into our rubbish bin hire:
Hazardous waste
Chemicals
Grease and oils
Solvents and paints
Laboratory waste
That's just some of the things you can't put in our skip bins. If you are uncertain, just get in touch with us and we'll let you know.
Greedy Bins Professional Skip Bin Hire
For all your Perth skip hire needs and waste management bins, call Greedy Bins, your professional skip bin hire in Perth. Our family owned business of highly skilled professionals has some of the most competitive skip hire prices in the business, and our service area covers the majority of Perth. We offers skip bin hire Wanneroo, Joondalup and Craigie. If you are unsure whether we service your area, just give us a call or shoot us an email. Since we started business in 2001, we have built a long list of fully satisfied customers and we look forward to your business.

Best Price
Fast, friendly service and low prices Senior's Discounts* conditions apply
Household
Garden
Domestic Waste
7 Day Delivery
Open Monday To Sunday, 7.30am - 5pm
Including Public Holidays
We take garden prunings, white goods, metal, furniture, rubbish
One cubic metre = One level 6x4 trailer
Mattress disposal extra