Mini Skip Bins Hire
Mini Skip Bin Hire Perth – If you are looking for Perth's most affordable and top quality skip bins hire in the Perth area, only one name comes to mind and that is Greedy Bins. Our company specializes in rubbish removal services and we have built our reputation as the most dependable in the business of delivering mini skip bins to Perth surrounding suburbs.

Acceptable waste types for Mini Skip Bins
The general type of wastes that are in your home or office on daily basis such as white goods, unwanted personal objects, toys, and more, are the kind of wastes that our skip bin service able to help. We collect all things that either need fixing or in bad shape that only needed to be sorted out, trimmed, or cleared out.
Greedy Bins is a family owned and operated business known for its fast, reliable and friendly service. All of our bins are within a reasonable price range. We have been in the business since 2001 and since then we have built a long list of fully satisfied customers. We like to pride ourselves as the best mini  skip bin hire Perth and in order to live that reputation, we only hire highly trained experts in the waste disposal trade. Our team of highly skilled professionals are always ready to take you through the ordering process and provide you with reasonable and accurate quotes over the phone.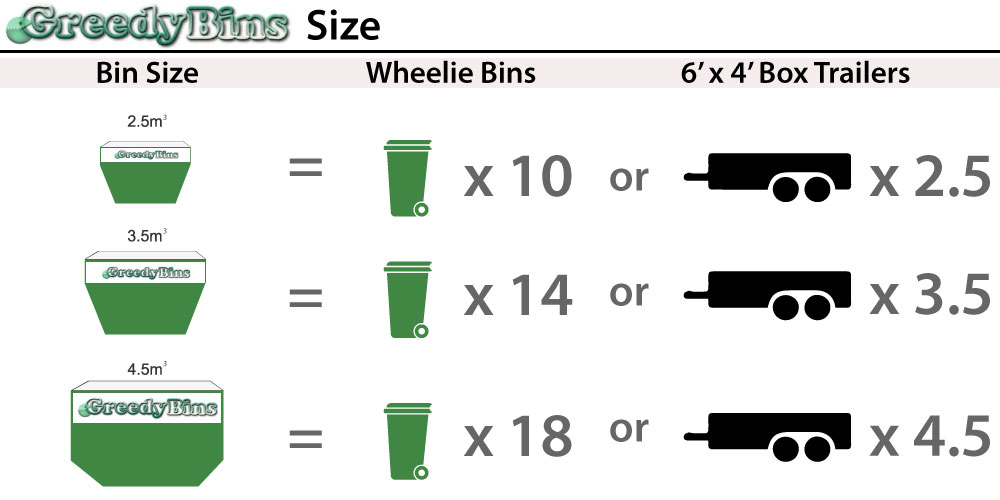 Mini Skip Bin Sizes
Our service offers a wide range of bin sizes. Our skip bin sizes ranges from 2.5 m3 our smallest size, 3.5 m3 and 4.5 m3 being our largest. Our intensive experience in the skip bins industry allows our highly trained team members to accurately provide you with the best bins for your needs.
With Greedy Bins, you are guaranteed to receive only the best service in the industry. Our staff always arrives on time and in proper uniform in order for you to properly identify who they are.
Our main mission is to provide efficient, cost effective and environmentally-friendly waste disposal solutions. If you are looking for the best mini skip bins hire Perth, look no further, Greedy Bins is here to take care of all your garbage problems, all at a very reasonable price. Give us a call at 0419 760 174
Best Price
Fast, friendly service and low prices Senior's Discounts* conditions apply
Household
Garden
Domestic Waste
7 Day Delivery
Open Monday To Sunday, 7.30am - 5pm
Including Public Holidays
We take garden prunings, white goods, metal, furniture, rubbish
One cubic metre = One level 6x4 trailer
Mattress disposal extra